---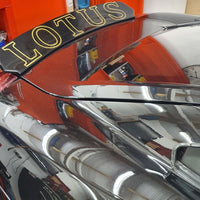 Please note: all images are for illustration purposes only. Colours do not represent the colour you are ordering - this is determined by the Vinyl Colour Choice selection.
For fixing to a wing or windshield.
Letters are supplied individually so you can space/arrange as needed.
Approximate minimum required widths for each size (guide assumes absolute minimum spacing between characters placed in a straight line):
80mm  - 496mm
85mm  - 528mm
90mm  - 558mm
95mm  - 590mm
100mm  - 620mm
105mm  - 652mm
110mm  - 682mm
115mm  - 712mm
120mm  - 742mm
125mm  - 774mm
130mm  - 805mm
135mm  - 836mm
140mm  - 866mm
145mm  - 898mm
150mm  - 928mm
155mm  - 960mm
160mm  - 990mm
165mm  - 1020mm
170mm - 1052mm
175mm - 1082mm
180mm - 1116mm
If your widths are borderline please choose a smaller size to ensure a comfortable fit.
FITTING NOTE: for best results, this product should be wet fitted using a very mild soap solution. This will allow accurate placement of the product before "committing" to a final position. You will need a felt-edge squeegee to achieve this, if you do not have one you can order one below.
Deliveries to Europe
Following the completion of Brexit on the 1st January, there are some significant changes to post and parcels being sent from the UK to Europe which you need to understand prior to placing an order.
Delivery Delays
We have seen some serious delays to some deliveries to European destinations due to the extra processing involved at customs.  Please be prepared to wait longer for your package to arrive.  In some cases (but not all) we may have some limited tracking information available.  For extended delays, it may take some time for the delivery company to investigate why there has been a delay, and we ask for your patience whilst these investigations are carried out.  If you are not prepared to wait, please do not place an order.
Customs Fees and VAT/taxes
Your country may impose importation fees and/or additiona taxes on the value of your import, so before placing an order please check what fees you may have to pay when purchasing from us.
Under no circumstances are we liable for any additional importation fees.  If are not prepared to pay the required import fees, please do not risk it and do not place an order.  If you refuse to pay, the package may be returned to us.  In these cases we will refund the value of the items purchased minus any delivery and handling costs incurred.  Any custom/bespoke items may not be refunded.  Any  design time charges will also not be refunded.
PLEASE DO NOT ASK US TO UNDER-DECLARE PACKAGE VALUES IN ORDER TO SAVE ON VAT/IMPORT DUTIES. If you do not want to pay VAT or import fees, please try to find someone in your country to order from as this is the only way you'll avoid additional costs.
Under-declaring the value of imports not only restricts the insurance value (in the case of loss/damage) but is also classed as customs fraud which is punishable by law (https://www.eurosender.com/blog/en/customs-scams/).  Any requests to change the value of an order on the paperwork will be ignored.
About Our Delivery Costs
We try to be as accurate and fair as possible with our delivery charges - but every order is different and the way delivery costs are calculated is, unfortunately, far from perfect.  If you are ready to place an order but feel the delivery costs are unjustified - please get in touch. As we do not take payment immediately on order we can easily "fine tune" the final charge amount if the delivery costs are inaccurate for your particular order.
Our Delivery Price Promise
If your delivery costs are significantly less than you've paid for, or if the order value does not justify a tracked service and we use a lower-cost service instead, we will refund the difference back to your payment method after we've dispatched your order.
Payments
All orders are taken through the website. We do not take any telephone orders. We do not have the facilities to take payments over the phone.
All transactions are processed using Shopify's secure payment system (if you pay by credit or debit card), or via PayPal depending on which payment method you choose.
We do not take payments until the point of dispatch, so if you've made a mistake with your order please get in touch as soon as possible - in most cases we can rectify before your order is processed.
Receipts
Please note that no invoice or receipt is sent out with any purchase, no prices are include with our gifts.
Your order confirmations and parcel dispatch will come in the form of emails from ourselves and our payment providers.  You can also access order details in your account section on the website, if you choose to create an account with us.
If you require an order invoice please let us know so that we can generate one for you.
Order Dispatch
On the rare occasion that the item you have ordered is out of stock we will contact you by email within 24 hours to let you know an expected delivery date.
Once you receive notification that payment has been taken, you can expect your order to then be dispatched on that day.
We will email you when your order has been dispatched.
For all orders placed before 11am we aim to dispatch the same day (Mon-Fri), orders placed after 11am will usually be dispatched the next working day (excluding Bank Holidays and Sundays), this is due to Post Office opening hour restrictions, and the need to obtain a proof of posting for all orders. 
Please note we cannot guarantee delivery times - Royal Mail 1st Class is normally next day (excluding Sundays) but this is by no means guaranteed.  If you have an urgent requirement please get in touch as we can post via Special Delivery (UK only) for additional cost.
Packaging
All our products are sent out well packaged to ensure they arrive in good condition, and should arrive fully intact. On the rare occasion that something is damaged in transit, please contact us immediately so that we can rectify.
Delivery Options
Delivery timescales are from the date of dispatch and are an approximation only.
Delivery costs are calculated based on weight and the type of product - please understand that many products are delicate and require extra packaging materials to ensure they get to you safely.
Usually orders over the value of £20 will be sent using a tracked/signed service - this is purely for the extended cover in the unlikely event that a package goes missing in transit (it will insure our loses if we need to re-create an order).  In these case any delivers will require a signature upon delivery.
For larger items or higher-value orders we may use a tracked & insured delivery method (ParcelForce or DPD) to deliver your order.
Deliveries within the UK
Most orders are posted using 1st Class Royal Mail delivery - for higher-value orders we may use a signed service or even Special Delivery.  1st Class post can arrive next-day but often does take longer, and in some cases a week or more.
All delivery times are intended as estimates only, once posted delivery times are sadly beyond out control.  Any quoted delivery times are from the point of despatch (you will be informed) and not your point of order.
During busy periods (Christmas especially), Royal Mail can suffer from overwhelming demand so please expect additional delivery delays around these times.  We kindly ask for some patience if your delivery has been longer than expected. 
Please allow 7-10 working days for your delivery to arrive.  If it has not arrived within this time, please do contact us.  Unfortunately we are unable to process a refund or redelivery until this time has passed.
If you require an order to be delivered urgently, please contact us first so that we can discuss what options are available.  Please note that expedited services are likely to incur additional costs.
Deliveries to outside the UK
Royal Mail quote 5-7 working days for delivery to non-UK destinations. While some deliveries are met within that time-frame, many do take longer (on average 2-3 weeks), and some get delayed for some significant time before either being delivered or declared lost.  For higher-value orders we use a tracked service that requires a signature on receipt, so it is normally possible to track your package in the system to see where it is.
As you can appreciate, once we've dispatched an order the delivery of it is beyond out control.  While we know how frustrating a delay to your order can be, we do ask for some patience if your item has not arrived, and may ask you to hold on a little longer for delivery.  Delays and losses appear to be more common on parcels (larger deliveries), we have a very high delivery success rate with orders that can be posted in normal-sized envelopes.
If you have been waiting longer than 28 working days (these are days that do not include weekends or public holidays) then please get in touch so that we can investigate further.  You can also contact us via Facebook Messenger here.
IMPORTANT: Delivery companies take time to investigate lost parcel claims so we may ask you to wait up to 45 working days so that a claim can be raised and investigations completed.  Please understand that large orders take many hours to re-make and significant costs to re-ship.
In cases where we re-send orders, we will ask you to return the original order if it somehow arrives (we will pay for return shipping), as even it it's delivered late we will be unable to claim any compensation from the delivery company.
If you do not agree to these conditions please do not proceed with your order. We are always available to talk if you have any concerns or questions.

Customs Charges
Orders outside of the EU may be subject to additional customs tax/handling charges. Please consider this when placing an order.  We are not responsible for any additional charges you may incur when ordering from abroad.
All order values are declared at the price you paid when ordering so that we are fully covered for any losses.
Non-delivery / Unclaimed / Returned Orders
Many of our orders (especially higher-value orders) will require a signature on delivery. If your order is delivered and, for whatever reason, a signature cannot be obtained, your local postal service will hold the package for a number of days.  If you do not claim the package within the time limit your order will likely be returned back to us.
We always use the full address you provide at the time of order, so if the order is returned to us through no fault of our own, you will be responsible for paying the postage costs for us to resend the order to you.
When placing an order, please ensure the delivery address is correct and that someone will be there to sign for your package - and if this is not possible, ensure you will be able to collect the package before it is returned to us.
Our delivery partner is Royal Mail
We have a selection of delivery options available. We cannot authorise parcels to be left outside due to the possibility of the parcel being damaged by weather conditions or stolen. At the Royal Mail's discretion the parcel maybe left with a neighbour if requested but this is not guaranteed. Delivery is to the delivery address on the order not to a stated person.
In order to keep your delivery costs to a minimum, we may also use additional courier services for larger items like framed prints or canvases.
You may need...
Vinyl Info & Help